BLISSFUL SILENCE AND WILDLIFE
Old orchard with apple and pear trees

Lakes, rivers, ponds, swamps!

Coffee mornings on the porch

Walks through meadows, fields and forests
Singing of firebelly toads in our pond
Nature classes and bird watching
Table football, table tennis

Bumblebees, bees, dragonflies – we love insects!

Chickens, rabbits and sheep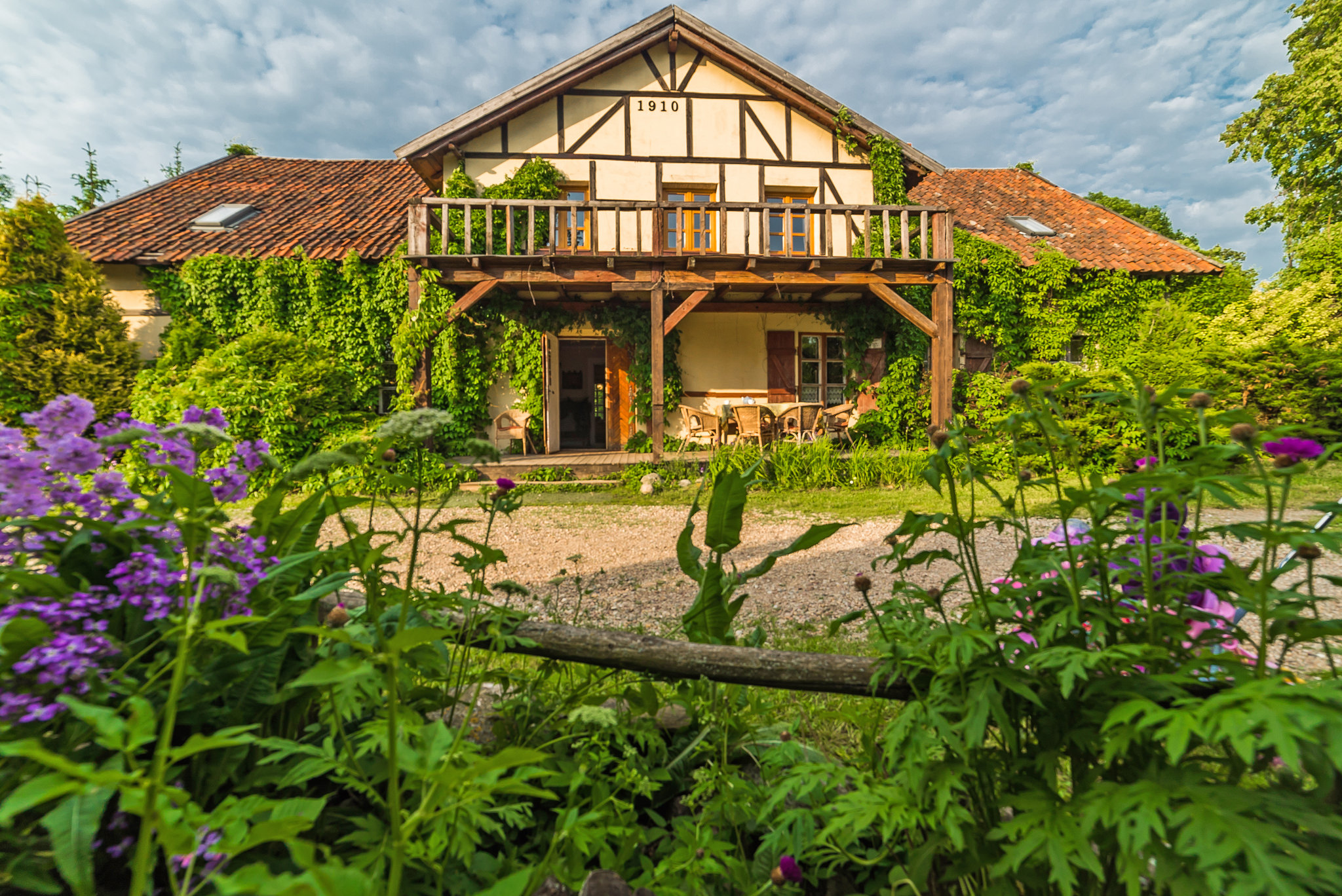 BLISSFUL SILENCE AND WILDLIFE
Old orchard with apple trees and pear trees

Lakes, rivers, ponds, swamps!

Chickens, rabbits and sheep

Walks in the surrounding meadows, fields and forests
HERE, EACH PIECE OF FURNITURE HAS ITS OWN STORY
The main building of our farm was built in 1910 (it used to be Prussia at that point). Today it is our year-round home. You will find here: kitchen, dining room and winter garden.We have prepared double rooms: LONG-TAILED TIT and GOLDCREST and a 4-bed apartment TEAL.
Right next to it is the Stables building, heated by fireplaces, and in it 4-person apartments: EAGLE OWL and BARN OWL. The Carriage House, heated by fireplaces, is our largest, with 6-person apartments: CRANE and WHITE STORK.
Our favorite place to swim (by Krzywa Kuta lake) is less than 10 minutes away by car, 30 minutes by bike. It is secluded, surrounded by forest, with a pier and clear water. Even on hot days, you can relax here in the shade of trees, listening to the singing of reeds from nearby rushes. In the vicinity of the Masurian Grange there are also several larger, guarded bathing areas, the most popular over the Gołdapiwo lake (here and here).
HOT AND COLD-BLOODED, PONIES, POLISH HORSES
Almost 20 horses live in our stable. They spend most of their time on green pastures, including warm, summer nights. We are relaxed and reassured by being in their company. The horses are looked after by a certified instructor and our guests have the opportunity to take advantage of riding lessons under her supervision. Regardless of whether it is your first lesson or the hundredth, for each rider Ania will choose a horse suitable for his experience and size.
ADVENTURE LURKS AROUND EVERY CORNER
Things That Children Love
In Mazurski Folwark it is never boring. Our youngest guests usually quickly get to know each other and explore the secrets of the farm together. And there are plenty of them! In the stable you can spend whole days watching horses or a colony of house martins and barn swallows. It is worth taking advantage of equestrian classes under the supervision of an instructor. You will find the playground in the shade of trees, between the old orchard and the bonfire place.
We will gladly take young ornithologists to classes about birds – we have a special set of binoculars for them. Or maybe bike tours will be more interesting for them? Kayaking? To be honest – most will choose a day at the shady lake :) There are many wild and natural bathing areas nearby, as well as guarded ones. Bad weather is not bad at all – with our collection of board games, for children of all ages, from 3 to 99 years!
SAPINA – CALM AND PICTURESQUE
Sapina is one of the most charming Masurian rivers. It is ideal for kayaking. It wanders unhurriedly through changing landscapes and picturesque lakes. There is not much traffic, during the expedition we can enjoy the silence, wildlife and singing of birds. The organization of kayaking is carried out by an external company, but we help our guests in the implementation of the entire trip. We offer 3 different routes, each of them is a several-hour trip. More information and an interactive map of individual routes can be found HERE.
"Silence enveloped in greenery, evening tea on the terrace, birds singing. The whole house is furnished in an appropriate old country manor house atmosphere. The hosts are very nice, and the breakfasts and dinners are the best in the world. As for me, poetry. I recommend!"
"A magical place, one of those that make you wonder: what a way to spend a live in the middle of wheat fields and pastures? It turns out you can. Real home conditions. It is worth waiting for dinners because they cook very tasty … "